Lake Home & Dock!
$209,000 Lake Home - For Sale
4 Br 3 Ba
Contact : Nate Clark Group, Realtor
Waterfront: No
Ad No: 561390 Views: 18
Acres: 0.370
Bull Shoals Lake, Marion County, Missouri
Added: Sep 21, 2018
Click Here for more info and photos
Updated: Sep 21, 2018

Bull Shoals Lake, located in both Missouri and Arkansas, is not only a very popular attraction for fans of the outdoors, but also houses a dam that is the fifth largest of its kind in the United States. The lake resides on the White River, roughly 60 miles south of Springfield, Missouri and around 170 miles north of Little Rock, Arkansas.



Bull Shoals can cover more than 71,000 acres at flood control levels, and 45,440 acres at conservation pool elevation. Besides being an impoundment of the White River, Tributaries for Bull Shoals include Little North Fork, Howard, East and West Sugarloaf, Bear, Jimmie, Bee, Big, Beaver and Swan creeks. Water flows through the dam and feeds the lower White River. Elevation of the lake ranges from 695 feet at top of flood control to 654 feet at top of conservation pool. Bull Shoals' limestone shorelines can range from 740 to 1050 miles depending on water height. The clear blue water of Bull Shoals attracts scuba divers and spear fishers from many states.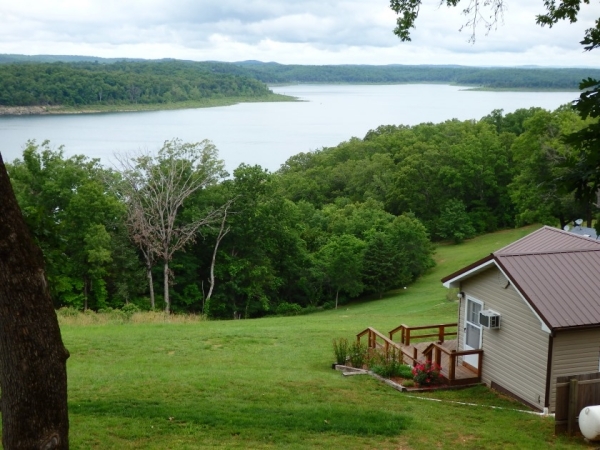 Jet Skis:
Are they permitted? Yes
Swimming:
Can you swim in the lake? Yes
What is the water quality?
Good
Water Level:
Average water level variance? 10 Feet
Boat Docks:
Are they permitted? Yes
Power Boats:
Are they permitted? Yes
Depth of Lake:
Up to 150 Feet
Nearby cities:
Branson, MO, Forsyth, MO, Theodosia, MO, Mountain Home, AR
Nearest airport:
Springfield, MO - 50 miles, New Branson Commercial Airport under construction – 10 miles
Building restrictions and requirements:
Varies


Mechanical Fisher, 870-422-7715
Grand Ave, Diamond City, AR 72630
Fishing Bait & Tackle

Rocking A Ltd, 870-422-7275
Grand Ave, Diamond City, AR 72630
Fishing Bait & Tackle

Lead Hill One Stop Bait & Tackle, 870-436-5757
Hwy 7 N, Lead Hill, AR 72644

Roadside Bait & Tackle, 870-436-3853
N Hwy 7, Lead Hill, AR 72644

Coon Creek Fishing Resort, 870-436-5405
Mc 8036, Lead Hill, AR 72644

Bill Lawrence Guide Service, 417-335-1003
1967 Mo Ark Rd, Cedarcreek, MO 65627-9319

B & B Bait & Tackle, 417-273-4310
Hc 1, Isabella, MO 65676-9801

Bull Shoals Famous Floats, 870-445-7160
Central Blvd, Bull Shoals, AR 72619
Fishing Service

Mar Mar Resort & Tackle Shop, 870-445-4444
Central Blvd, Bull Shoals, AR 72619

Bob's Court & Bait Station, 417-546-4704
19948 US highway 160, Forsyth, MO 65653-5307

Tri Lakes Rod & Reel Repair, 417-546-3928,
16320 US hwy 160, Forsyth, MO 65653

Big Reds Bait & Tackle, 870-431-5806
Lakeview, AR 72642








Lead Hill Rv & Boat Storage, 870-436-7494
Melton Dr, Lead Hill, AR 72644

Lead Hill Boat Dock Inc, 870-422-7444
Diamond City, AR 72630

Hwy 125 Marina, 870-436-5390
Lakefront Pt, Peel, AR 72668

Tucker Hollow Boat Dock, 870-436-5564
Hwy 281 N, Lead Hill, AR 72644

Pontiac Cove Marina, 417-679-3676
Hc 1, Pontiac, MO 65729-9803

K Dock Marina, 417-334-2880
473 Parksley Ln, Kirbyville, MO 65679-8235

Lakeview Marina, 870-431-5291
Boat Dock Rd, Lakeview, AR 72642







Cedar Haven RV Mobile Home Park, 417-273-2162
Hc 4 Box 4145, Theodosia, MO 65761-9411

Fort Cook RV Park, 417-273-4444
Theodosia, MO 65761

Bull Shoals State Park, 870-431-5521
Lakeview, AR 72642

White River Campgrounds, 870-453-2332
White River Trl, Flippin, AR 72634

Denton Ferry RV Park, 870-435-6656
740 Denton Ferry Rd, Cotter, AR 72626-9701

Rim Shoals Cabins & Campground, 870-435-6695
Gassville, AR 72635

Rim Shoals Cabins, 870-435-6144
153 Rim Shoals Cp Rd, Gassville, AR 72635







Museums, Caves, the oldest house standing in Arkansas, and an old pioneer village also attract many tourists to this marvelous lake. Bull Shoals has also become an excellent home to many recreational activities.

HISTORY: Construction of the dam that forms Bull Shoals Lake was started in 1947 and completed in 1953. It can be found 7 miles north of Cotter, Arkansas. In 1952, commercial generation began on Bull Shoals, with the powerhouse and switchyard finishing construction in 1953. The final two generation units were installed in December of 1963, completing construction at an estimated cost of $86,000,000. Bull Shoals is one of four multiple purpose projects constructed in the upper White River Basin, along with Norfork, Table Rock, and Beaver Lake, for the control of floods and the generation of hydro electric power.
Diamond Hills Country Club, 870-422-7613,
Diamond Blvd, Diamond City, AR 72630

Casper Enterprises, 870-431-8819
Oakland, AR 72661 Dock Builders