All Waterfront Real Estate Plus has (5) lake real estate ads listed on LakeHouse.com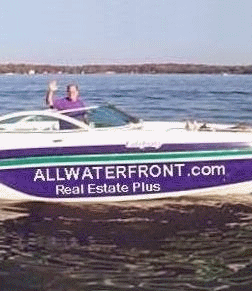 Pete Eichler
All Waterfront Real Estate Plus
Designated Managing Broker/Owner
Antioch, Illinois 60002
+1 847-395-2300 847-533-9955
http://www.ALLWATERFRONT.com
Don't miss the boat! You can live on the water with help from All Waterfront Real Estate Plus — Awarded #1 in waterfront sales in Lake and McHenry counties in Illinois. We specialize in the sale of homes on the Chain O'Lakes, Fox River and private lakes. We also can help you find a home that offers lake and water rights and views. We are the original and longest established real estate company specializing only in the sale of waterfront and water related properties.

In addition to more than 30 years of real estate experience, I offer you accomplishments such as:

• Over $155 Million Sold Since 2005
• Graduate REALTOR® Institute - GRI
• Member of the $100 Million Dollar Club
• Lifetime member of the Illinois Association of REALTORS® President's Club
• Short Sale & Foreclosure Resource - SFR
• Lakefront homeowner and knowledge of the lakes and waterfront homes for over 30 years

This shows our experience and success, which is also reflected in our knowledge of waterfront properties and our ability to understand this complex market.

Why choose All Waterfront Real Estate Plus when buying or selling your waterfront home?
Waterfront and water related properties are our exclusive focus. We are specialists in this type of real estate, which means we have the knowledge and understanding of the intricacies that "general" agents may not understand such as:

• Areas with flooding problems
• FEMA flood plains, flood insurance, building regulations and restrictions
• Water depths and quality
• Channels and waterways that are or are not navigable by larger boats
• Quiet no wake areas on the Chain O'Lakes
• Boating or use restrictions related to gas or electric motors, horsepower limits and restrictions
• Pier and boat lift regulations
• Boat launch locations and uses
• Operation of the Stratton Lock and Dam
• Areas offering public water and sewer
• Various well and septic types, regulations and issues
• Bank owned foreclosures on the water
• Waterfront short sales

These are just 13 things the general real estate agent doesn't know about when dealing with waterfront real estate while representing you in what can be a complicated transaction.

Our years of experience practicing this very specific type of real estate is why you should choose All Waterfront Real Estate Plus when looking to buy or sell waterfront properties. Our vast knowledge of the over 95 lakes in Lake and McHenry counties including the 15 lakes on the Chain O'Lakes each connected by channels along with approximately 45 miles of the Fox River which is navigable by motor boat as well, is sure to be a great resource and benefit for you.

Don't miss the boat. Call All Waterfront Real Estate Plus today to schedule an appointment!

Please visit our website for more information or to view our listings and other listings in the MLS.
Illinois > Chain O Lakes - Pistakee Lake
Illinois > Chain O Lakes - Fox Lake