Ohio Lake Homes For Sale
(1031 lake properties)
Discover the best lakefront houses, properties, land, and acreage for sale in Ohio, "the Buckeye State". Find Ohio real estate agents who specialize in lake property to help you buy or sell a lake home on popular lakes such as Grand Lake St. Mary's, Indian Lake, Lake Erie, and Lake Waynoka . Ohio is known for its diversity, with big city amenities as well as charming, historic small towns. There are plenty of riverfront options as well, such as the Ohio River, Cuyahoga River, and the Olentangy River.
(MORE HERE...)
Ohio Lakes with Real Estate Listings:
---
About Ohio
Lake Living in Ohio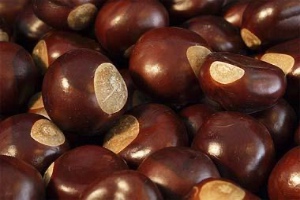 The Buckeye state is called such for the abundance of the Buckeye trees that dot the landscape. The deep brown nut that grows on the tree is said to resemble the eye of a deer, and bring good luck in hunting or fishing. The Iroquois natives who once flourished in Ohio's rich and fertile lands also ground these into a salve and used it as a multipurpose remedy. Ohio also offers another sure-fire remedy: over 5,100 lakes, plentiful rivers, and abundant waterfront property. Here on Lakehouse.com, there are over 1,300 such waterfront properties for you to browse. Whether you're looking for a quiet lakefront getaway, a peaceful place to retire, a bustling lakeside community, or just a great investment, Lakehouse is the place to be for lake property in Ohio.
Find It Here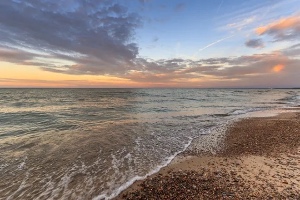 The "Find it Here" state is truly deserving of its nickname; it aptly describes a place that is incredibly diverse, from its big city amenities which include a thriving arts and culture scene and award-winning culinary experiences, to the charm and comfort that can be found in its distinctive neighborhoods and historic small towns. If you're lucky enough to live here, you'll find endless opportunities to share memorable experiences with those who mean the most to you. Ohio derives its real name, however, from the Seneca Iroquois, in whose language Ohio means "great waters." Fortunately, the state lives up to that name as well. Lake Erie has over 200 miles of shoreline in Ohio, and there are over 200,000 acres of lake to go along with it. Ohio's lakes are great for fishing; bluegill sunfish can be caught throughout the state, and rainbow trout, small and largemouth bass are plentiful as well. Looking for lake property in Ohio has never been easier. You can get your perfect lake house or lake lot in the Find It Here state by searching for lake, city, or even county. Alternatively, you can search using the interactive map and pan across this southern great lake state.
High Life in Ohio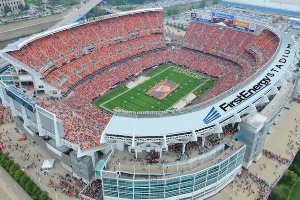 Living lakeside in Ohio is just a few clicks away. Agents are eagerly awaiting to receive your inquiry. Some of the best lakes in Ohio are just a short drive from its bustling cities and beautiful parks. The major cities in Ohio are Columbus, Cleveland and Cincinnati, each with its own claim to fame. The Scioto River runs through Columbus, the capital of Ohio, and features a string of lovely parks and compelling museums, including a restored 1800s German village.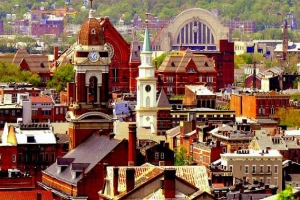 Cleveland sits along the southern shore of the stunning Lake Erie and is home to several professional sports teams, including the Cleveland Cavaliers, Cleveland Browns, and the Cleveland Guardians (formerly Cleveland Indians). Cincinnati was settled in 1788, and its Over-the-Rhine district is well known for its elegant 19th century architecture. Ohio's 75 state parks are always free, so spending your free time is fun and easy. The state also features 8 national parks and monuments, including the gorgeous waterfalls and streams of Cuyahoga Valley National Park. Ohio's climate is also an attraction for those who like to enjoy four distinct seasons, Ohio has comfortable, rainy springs; warm summers, beautiful crisp, colorful autumns and cold snowy winters.
Best Lakes in Ohio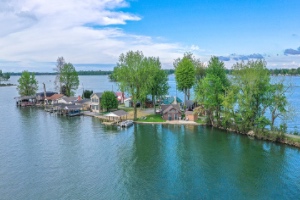 Looking to buy a lake house in Ohio? There are so many great options, so we'd love to show you some of the best lakes. Of course, the serene shores of
Lake Erie
are a great place to start, and there are a number of listings in Cuyahoga county, with Cleveland at your convenience. Another great Ohio lake is
Indian Lake
, a nature-rich location about an hour from Columbus, complete with its own state park, a total of 69 secluded islands, and excellent fishing. Riverfront property in Ohio is ripe for the picking as well; the
Ohio River
runs right through Cincinnati, and property along its shores is in high demand.
Featured Ohio Lake Properties
New Ohio Lake Real Estate (Latest 10)

Alum Creek Lake Home for sale in Delaware, Ohio


Brand new community in the highly desired Lewis Center! Boasting ...

$614,900 Sq Ft: 3485 Year: 0 Acres: 0.000

---

Candlewood Lake Lot for sale in Mount Gilead, Ohio


Ready to BUY and BUILD? Or perhaps just enjoy the lake and pool ...

Lot

$12,000 Acres: 0.000

---

(private lake, pond, creek) Home for sale in Chagrin Falls, Ohio


This beautiful 3 bedroom, possible 4 bedroom, home that sits on ...

$500,000 Sq Ft: 3042 Year: 1860 Acres: 3.800

---

(private lake, pond, creek) Home for sale in Ashland, Ohio


You will find everything you have dreamed of at this one owner ...

$495,900 Sq Ft: 2467 Year: 1992 Acres: 10.000

---

(private lake, pond, creek) Home for sale in Painesville, Ohio


Unique opportunity to make your own. Seller offering update ...

$335,000 Sq Ft: 2776 Year: 1987 Acres: 0.720

---

Lake Lakengren Home for sale in Eaton, Ohio


Lakefront Property! 5 Bedroom/ 3.5 bath 3477SF home in ...

$719,900 Sq Ft: 3477 Year: 2000 Acres: 0.440

---

Cuyahoga River Condo for sale in Cleveland, Ohio


THE apex penthouse of Stonebridge Tower providing chic living & ...

$475,000 Sq Ft: 3142 Year: 2005 Acres: 0.000

---

Lake Erie - Ottawa County Home for sale in Lakeside Marblehead, Ohio


If you have been waiting for a turn key vacation home with ...

$309,900 Sq Ft: 1220 Year: 1973 Acres: 0.087

---

(private lake, pond, creek) Lot for sale in Vinton, Ohio


This is the dream opportunity you've been waiting for! A ...

Waterfront Lot

$600,000 Acres: 82.440

---

Lake Erie - Lorain County Home for sale in Sheffield Lake, Ohio


Enjoy Lake Erie views from this historic Italianate style ...

$419,900 Sq Ft: 4307 Year: 1900 Acres: 0.390

---


LAKE HOMES AND LAND FOR SALE IN ALL 50 STATES:

Lakehouse.com is a nationwide advertising service for lake properties, weekend homes, retirement homes, second homes, vacation homes, waterfront homes, lake lots, land, acreage, lake view properties, lakefront cabins, lakeside cottages, condos, log homes, riverfront, lake access, lake area homes, lake shore or any type of real estate for sale on public and private lakes, reservoirs and rivers all over the United States and Canada.
Buy and Sell lake houses on Lakehouse.com. Find a Lake Realtor, Agent, Broker or Realty within our listings to help you locate the perfect recreational property. If you are a Realtor, Agent or Broker, Lakehouse is the perfect place to advertise your client's water front properties because we can connect you with millions of buyers that visit our website.