Florida Lake Homes For Sale
(16741 lake properties)
Best Lakes in Florida
Lake Okeechobee, the largest lake in Florida, has a wonderful variety of Lake houses for sale for any buyer. Lake Apopka, Lake George, Lake Talquin, or Mull Lake are also popular spots. Lakehouse.com lists over 12,500 waterfront properties in Florida, including prime real estate on the St. John's River and Florida's many bays, and over 4,800 properties with a private lake, pond, or creek. Discover the best lakefront listings in Florida - houses, properties, land, and acreage. Find real estate agents who specialize in Florida lake property to help you buy or sell a lake home.
(MORE HERE...)
Florida Lakes with Real Estate Listings:
---
About Florida
Soaking it Up in "The Sunshine State"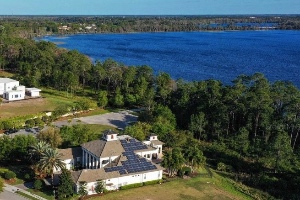 From Pensacola to Jacksonville and on down to Miami, Florida is spotted with beautiful lakes. Lakehouse.com is your source for choice lake property throughout the great state. Florida lists over 30,000 lakes, and there's no shortage of amazing lakefront property to go along with them. Lake Nona is in a trendy planned community made up of sleek family homes, bungalows, and gated communities. The USTA National Campus hosts major tennis events and offers lessons. The Nona Adventure Park has a floating obstacle course and wakeboarding. Boxi Park features food trucks, live music, and volleyball courts.
Fun, Freedom, and Fishing in Florida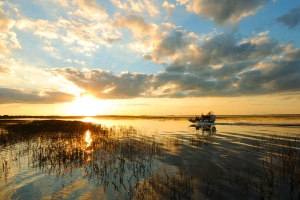 Florida lakes are famously reliable sources of fishing and sunshine. With so many to choose from, it can be difficult to know where to start your search for a Florida lake house.
Lake County
, between Tampa and Orlando, is a great place to start. The county is home to over 1,000 lakes, excellent fishing, and several state parks and nature preserves. There's no better location than Florida for the avid angler. The state can claim the title of "Fishing Capital of the World", as it holds over 900 fishing records and boasts an incredible diversity of catches. Freshwater fishers can enjoy some of the world's best bass fishing, or hit the ocean for redfish, trout, sailfish, or snapper.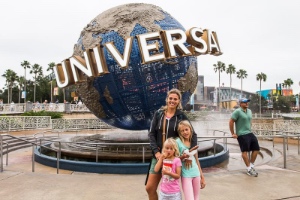 Fun is never in short supply in Florida. Florida has world-class beaches in Destin, Clearwater, and Naples. The sunshine state also has some of the country's best parks at the Everglades National Park and Biscayne National Park. The list of attractions goes on: Universal Studios, Legoland, Walt Disney World Resort and the Kennedy Space Center are just a few of the fun things to do in Florida.
In the past few years, people from all over the U.S. have flocked to Florida. Perhaps it's because Florida consistently ranks as the nation's freest state. Looking to get more bang for your buck in terms of housing and day-to-day services? Move to Florida. While the cost of living in Florida's major cities, such as Miami, can be on the higher end, the majority of areas throughout the Sunshine State are very affordable compared to many other U.S. states. From the lack of state income tax to the sunny weather, there are plenty of reasons to love calling Florida home. Throughout the state, you'll find people of every age, religion and background imaginable, making it one of the greatest melting pots in the country. Its diverse population, delectable food and many recreational attractions, make it an interesting place to live. From professional sports to college sports, Florida offers some of the best sports teams in the country to cheer on. While most states have one or two professional football teams (or none!), Florida has three. Florida also offers two professional baseball teams, two professional basketball teams and two professional hockey teams. Popular teams in the state include the Miami Heat, Miami Dolphins, Jacksonville Jaguars, Tampa Bay Buccanneers, Orlando Magic, Tampa Bay Rays, Miami Marlins and more. All these things make Florida a fantastic spot for a beautiful lake home.
Featured Florida Lake Properties
New Florida Lake Real Estate (Latest 10)

(private lake, pond, creek) Condo for sale in Punta Gorda, Florida


Great Lifestyle, End Unit, Ground floor, Furnished/Turnkey ...

$249,999 Sq Ft: 1363 Year: 1982 Acres: 0.270

---

(private lake, pond, creek) Condo for sale in Deerfield Beach, Florida


Lovely villa at The Lakes in Deerfield Beach boasts 2 bedrooms ...

$300,000 Sq Ft: 1051 Year: 1984 Acres: 0.000

---

(private lake, pond, creek) Condo for sale in Pompano Beach, Florida


Do you dream of an affordable place, overlooking a water view ...

$142,500 Sq Ft: 550 Year: 1961 Acres: 0.000

---

Lake Smart Home for sale in Winter Haven, Florida


Welcome home! This wonderful 4 bedroom 2 bath home is located in ...

$329,900 Sq Ft: 1846 Year: 2015 Acres: 0.120

---

Clearwater Harbor Condo for sale in Clearwater, Florida


Priced for buyers who don't mind TLC and cleaning it up to make ...

$620,000 Sq Ft: 1100 Year: 1974 Acres: 0.000

---

(private lake, pond, creek) Home for sale in Miramar, Florida


WELCOME TO THIS STUNNING BREATH TAKING MODERN HOME IN WINDSOR ...

$1,350,000 Sq Ft: 3919 Year: 1999 Acres: 0.000

---

(private lake, pond, creek) Condo for sale in Hialeah, Florida


Price adjusted, Motivated Selle! 4 Bedrooms, 2.1 Bathrooms ...

$449,900 Sq Ft: 1709 Year: 1988 Acres: 0.000

---

Biscayne Bay Home for sale in Miami Shores, Florida


Lowest priced Open Bay Waterfront property (lot ppsf) on the ...

$4,999,000 Sq Ft: 2663 Year: 1957 Acres: 0.000

---

Biscayne Bay Home for sale in Miami, Florida


Nestled away in one of Miami's most exclusive neighborhoods, Bay ...

$14,999,000 Sq Ft: 4835 Year: 2017 Acres: 0.000

---

Cape Coral Lakes and Canals Home for sale in Cape Coral, Florida


Gorgeous Koogler custom home built to exceptional quality ...

$1,895,000 Sq Ft: 2463 Year: 2020 Acres: 0.287

---


LAKE HOMES AND LAND FOR SALE IN ALL 50 STATES:

Lakehouse.com is a nationwide advertising service for lake properties, weekend homes, retirement homes, second homes, vacation homes, waterfront homes, lake lots, land, acreage, lake view properties, lakefront cabins, lakeside cottages, condos, log homes, riverfront, lake access, lake area homes, lake shore or any type of real estate for sale on public and private lakes, reservoirs and rivers all over the United States and Canada.
Buy and Sell lake houses on Lakehouse.com. Find a Lake Realtor, Agent, Broker or Realty within our listings to help you locate the perfect recreational property. If you are a Realtor, Agent or Broker, Lakehouse is the perfect place to advertise your client's water front properties because we can connect you with millions of buyers that visit our website.