Arizona Lake Homes For Sale
(775 lake properties)
Discover the best lakefront listings in the "Grand Canyon state", Arizona - houses, properties, land, and acreage. Find real estate agents who specialize in Arizona lake property to help you buy or sell a lake home with a panoramic desert landscape. With 22 majestic state parks, Arizona is an outdoorsman's paradise for fishing, hiking, biking and rock climbing.
(MORE HERE...)
Arizona Counties with Real Estate Listings:
---
About Arizona
Lake Living in Arizona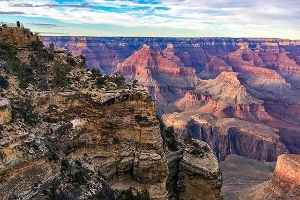 Theories abound on where the state of Arizona got its name: Spanish for "arid zone", Aztec for "silver-bearing", or Papago for "small spring." These competing theories all have some truth to them, the Grand Canyon state, Arizona, does in fact bear silver and have natural springs throughout. It is also consistently sunny and dry, except for its many beautiful lakes. Arizona's 128 lakes and 5 major rivers are perhaps its best kept secret, offering amazing scenery and year-round fishing and boating, all while being remarkably well-priced. Like the silver mines that used to dot the landscape, the hidden value of Arizona's lakes continues to bring people to the state. Great people, a Grand Canyon, and panoramic desert landscapes don't hurt either. Lakefront property in Arizona offers you the best of both worlds: a respite from the cold and a respite from the heat. Here on Lakehouse.com, you can easily browse over 1100 choice lake properties, lakefront real estate, and lake houses in Arizona. Whether you are looking for a beautiful abode to retire in, a summer home for the whole family, or a lively lake community to make your new home, you can find it in Arizona. You can easily search by city, lake, or even county. Alternatively, you can pan across the interactive map to explore the whole state.
The Grand Canyon State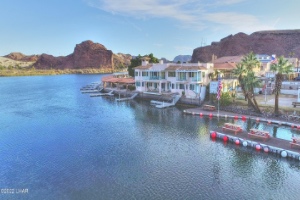 Arizona shares a border with California, Utah, Nevada, New Mexico and Old Mexico, too. The Grand Canyon is its claim to fame, but the state's topographical diversity is second to none. The Grand Canyon was carved out millions of years ago by the mighty Colorado River, and the same process has carved out many valleys, gorges, cliff sides and hills throughout the mostly desert state. There are 22 majestic state parks to visit and Arizona's National parks, including Saguaro National Park and Bryce Canyon National Park are unlike anywhere in the world. Living in Arizona has many other perks. Low cost of living, low pollution and low crime rates are enticing enough, but it gets better. Lower still is Arizona's pest insect population; the area is inhospitable to typical lake nuisances like flies and mosquitoes, so they're a rare sight throughout the state.
Arizona is an outdoorsman's paradise, in the water or out. Whether you are hiking, biking, and climbing, or swimming, rafting, or fishing, there's more fun to be had in Arizona than you could imagine.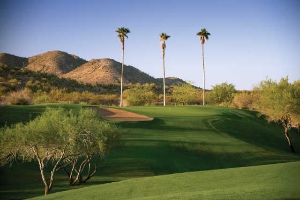 Astounding natural sites aside, Arizona's cities of Phoenix and Tucson are bustling metropolitan areas, and many of Arizona's lakes are close by. Phoenix, the capitol of Arizona, is a city of 1.6 million and one of the fastest growing cities in the country. Known as the Valley of the Sun, the city is known for its high-end spa resorts, world-class golf courses, and as the home of the upstart Phoenix Suns. Tucson, while about a third of the size of Phoenix, is no less entertaining. Dating back to Spanish settlements in 1775, Tucson is now lively locale with festivals and fairs throughout the year, as well as the home of the high-energy Arizona Cardinals.
Best Lakes in Arizona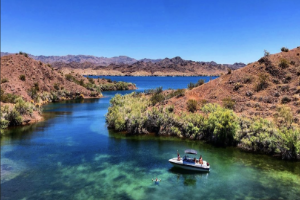 To help you start your search for lake property in Arizona, we'd love to recommend some of the best lakes around! The most loved lake in Arizona is doubtless the grandiose
Lake Havasu
, a sun-soaked lake at the widening of the Colorado river shared between California and Arizona. The lake is home to Lake Havasu State Park, and many other beautiful beaches, trails, and scenic shorelines.
Lake Powell
is a desert oasis, far from the city lights and settled amidst gorgeous plateaus along the border with Utah. Sandy beaches and stunning red-rock cliffs set this lake apart. The riverfront is also a top option in Arizona; the
Colorado River
offers a dazzling array of waterfront properties throughout the state. There may not be, in fact, any Ocean Front Property in Arizona, but there sure is plenty of lake property. Start your search today!
Featured Arizona Lake Properties
New Arizona Lake Real Estate (Latest 10)

Colorado River - La Paz County Lot for sale in Parker, Arizona


Nice water access lot located on the bluff in Marina Manor with ...

Lot

$170,000 Acres: 0.100

Ad # 1220653

---

Lakes at Ocotillo Golf Club Home for sale in Chandler, Arizona


This model-like home sits on one of the best lots in this highly ...

$879,000 Sq Ft: 2746 Year: 2017 Acres: 0.138

Ad # 2704360

---

Lake Havasu Home for sale in Lake Havasu City, Arizona


Jaw dropping pano lakeviews! Spectacular custom home w/ ...

$1,150,000 Sq Ft: 2855 Year: 2006 Acres: 0.440

Ad # 2599163

---

Lake Havasu Lot for sale in Lake Havasu City, Arizona


Fantastic opportunity. Multi family lot in the the center of ...

Lot

$199,000 Acres: 0.590

Ad # 2714857

---

Lake Havasu Home for sale in Lake Havasu City, Arizona


This is a wonderful Family home, located in a south side ...

$465,000 Sq Ft: 1458 Year: 1991 Acres: 0.260

Ad # 2674970

---

Lake Havasu Home for sale in Lake Havasu City, Arizona


Contemporary design, 1 story home on the south side with Lake ...

$899,999 Sq Ft: 2007 Year: 2019 Acres: 0.230

Ad # 2714621

---

Lake Havasu Home for sale in Lake Havasu City, Arizona


SPECTACULAR VIEW! VIEW! VIEW!Imagine the most glorious sunsets ...

$547,500 Sq Ft: 1481 Year: 1975 Acres: 0.580

Ad # 2714164

---

Lake Havasu Home for sale in Lake Havasu City, Arizona


This breathtaking luxury custom home is ready for you! Features ...

$1,375,000 Sq Ft: 2528 Year: 2020 Acres: 0.360

Ad # 2646350

---

Goldwater Lake Home for sale in Prescott, Arizona


Spectacular Views from this incredible Custom Home in the ...

$1,200,000 Sq Ft: 3729 Year: 2004 Acres: 0.450

Ad # 2714267

---

Lake Havasu Home for sale in Lake Havasu City, Arizona


VIEWS! VIEWS! VIEWS! STILL HAVE TIME TO PICK YOUR COLORS!!! ...

$629,900 Sq Ft: 1605 Year: 2022 Acres: 0.300

Ad # 2630106

---


LAKE HOMES AND LAND FOR SALE IN ALL 50 STATES:

Lakehouse.com is a nationwide advertising service for lake properties, weekend homes, retirement homes, second homes, vacation homes, waterfront homes, lake lots, land, acreage, lake view properties, lakefront cabins, lakeside cottages, condos, log homes, riverfront, lake access, lake area homes, lake shore or any type of real estate for sale on public and private lakes, reservoirs and rivers all over the United States and Canada.
Buy and Sell lake houses on Lakehouse.com. Find a Lake Realtor, Agent, Broker or Realty within our listings to help you locate the perfect recreational property. If you are a Realtor, Agent or Broker, Lakehouse is the perfect place to advertise your client's water front properties because we can connect you with millions of buyers that visit our website.