Greater Nolin Lake Realty Group has (21) lake real estate ads listed on LakeHouse.com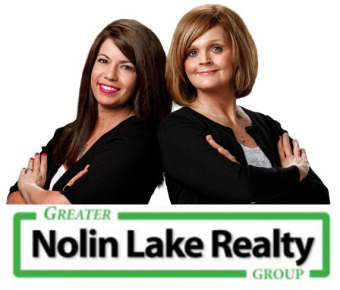 Carol Humphrey & Carla Meredith
Greater Nolin Lake Realty Group
9427 S. Hwy 259
McDaniels, Kentucky 40152
+1 270-528-6500 270-287-2129
http://www.NolinLake.com
We KNOW you have an important choice to make in this hot-hot-HOT seller's market! Do you work with a Realtor® - like us? Or don't you? If you're a BUYER - there may be homes being offered For-Sale-By-Owner (FSBO). If you're a SELLER - you might be inclined to "stick a sign in your yard and save our commission."

Here's something to consider: EXPERIENCE MATTERS!

- MOST American families will only buy or sell real estate 2-3 times during their adult lives. When you are about to make one of the most important financial transactions of your life - do you want someone standing beside you that has done it hundreds of time? Or someone who has not? Especially in a world where real estate transactions have become very complex.

- Last year, our Broker closed OVER 200 sides - for almost $38 million dollars in real estate volume! She's been at this since early 2005.

- MOST of the time, Realtors® save you their commission or more - in lost price reductions after appraisals, lost $$ for repairs that aren't required or additional legal cost when problems arise.

We specialize in property sales on and around Nolin Lake in Central KY.

We are the agents that LIVE AT Nolin Lake! Our principal broker has over 15 years of real estate experience serving waterfront buyers and sellers in KY!

We are members of the Greater Louisville Board of Realtors. And our Broker is a member of 2 other local boards as well. That gives you MAXIMUM exposure to our market!

We are the top selling team on the lake! Our specialty is in knowing our lake and our market and providing 'knock your socks off' customer service!

We do stay busy - so call ahead and we'll help you find your special place at the lake! If we're with a client, we may not be able to answer our phones. No problem... just call our office at 270-257-0602 and our staff will track us down for you!

If you're thinking of selling your property, give us a call. We serve most areas of Nolin Lake and have a sister-companies that serves the counties around the lake or Rough River Lake!!

We can hook you up with just one phone call!

Thanks for your interest!
Kentucky > Nolin Lake

Excellent Building Lot Near Wax Marina SOLD
$29,900 Lake Lot - SOLD!
Waterfront: No
Acres: 0.410
Added: Mar 03, 2023
Cub Run, Kentucky 42729
Updated: May 12, 2023
Hart County
Views: 262
Carol Humphrey & Carla Meredith
Ad No: 1375134

Lake Lots In Twin Coves Area
$30,000 Lake Lot - For Sale
Waterfront: No
Acres: 0.840
Added: Mar 10, 2023
Clarkson, Kentucky 42726
Updated: May 09, 2023
Grayson County
Views: 535
Carol Humphrey & Carla Meredith
Ad No: 3566646

Building Lot Near Wax Marina
$31,000 Lake Lot - Under Contract
Waterfront: No
Acres: 0.690
Added: Mar 03, 2023
Cub Run, Kentucky 42726
Updated: May 06, 2023
Hart County
Views: 216
Carol Humphrey & Carla Meredith
Ad No: 1395832

Building Lot In Nolin Lake Estates
$35,000 Lake Lot - For Sale
Waterfront: No
Acres: 0.240
Added: Mar 31, 2023
Clarkson, Kentucky 42726
Updated: Apr 13, 2023
Grayson County
Views: 381
Carol Humphrey & Carla Meredith
Ad No: 3629656

Vacant Lot in NLE near ramp.
$39,500 Lake Lot - For Sale
Waterfront: No
Acres: 0.200
Added: Feb 01, 2023
Clarkson, Kentucky 42726
Updated: Mar 28, 2023
Grayson County
Views: 399
Carol Humphrey & Carla Meredith
Ad No: 3458804

3 Lots near Ponderosa
$44,000 Lake Lot - For Sale
Waterfront: No
Acres: 1.350
Added: Apr 12, 2023
Clarkson, Kentucky 42726
Updated: Apr 12, 2023
Grayson County
Views: 218
Carla Meredith
Ad No: 3219183

Building Lot in Moutardier Bay
$50,000 Lake Lot - For Sale
Waterfront: No
Acres: 1.040
Added: Mar 29, 2023
Leitchfield, Kentucky 42754
Updated: Mar 29, 2023
Grayson County
Views: 304
Carol Humphrey & Carla Meredith
Ad No: 3620583

Cute, Cozy Updated Home Near Nolin Lake SOLD
$179,000 Lake Home - SOLD!
Waterfront: No
Year Built: 2004
2 Br 2.0 Ba
Sq Ft: 1129
Stories: 1
Acres: 1.000
Added: Feb 28, 2023
Cub Run, Kentucky 42729
Updated: Mar 20, 2023
Hart County
Views: 307
Carol Humphrey & Carla Meredith
Ad No: 3532170

Home on 2 Lots with Water Views in Nolin Lake Estates
$180,000 Lake Home - For Sale
Waterfront: No
Year Built: 1974
2 Br 1.0 Ba
Sq Ft: 1321
Stories: 1
Acres: 0.820
Added: Apr 14, 2023
Clarkson, Kentucky 42726
Updated: May 17, 2023
Grayson County
Views: 913
Carol Humphrey & Carla Meredith
Ad No: 3702859

Lake Area Home With Rental Income Possibility
$269,000 Lake Home - For Sale
Waterfront: No
Year Built:
3 Br 1.0 Ba
Sq Ft: 1232
Stories: 1
Acres: 2.460
Added: May 12, 2023
Clarkson, Kentucky 42726
Updated: May 28, 2023
Grayson County
Views: 236
Carol Humphrey & Carla Meredith
Ad No: 3798929

Home and Garage on 2 Lots in Michaels Cove
$279,000 Lake Home - For Sale
Waterfront: No
Year Built: 2000
2 Br 1.5 Ba
Sq Ft: 1040
Stories: 1
Acres: 0.750
Added: Feb 16, 2023
Leitchfield, Kentucky 42754
Updated: May 19, 2023
Edmonson County
Views: 881
Carol Humphrey & Carla Meredith
Ad No: 3499081

Lakefront in Wax SOLD
$289,000 Lake Home - SOLD!
Waterfront: Yes
Year Built: 1999
3 Br 2.0 Ba
Sq Ft: 1728
Stories: 1
Acres: 0.730
Added: Dec 07, 2022
Clarkson, Kentucky 42726
Updated: Mar 16, 2023
Grayson County
Views: 2015
Carol Humphrey & Carla Meredith
Ad No: 3347836

Beautiful Rustic Cabin with Water Views SOLD
$359,000 Lake Home - SOLD!
Waterfront: No
Year Built: 2007
3 Br 2.0 Ba
Sq Ft: 2249
Stories: 1 1/2
Acres: 0.240
Added: Mar 01, 2023
Cub Run, Kentucky 42729
Updated: May 18, 2023
Hart County
Views: 1046
Carol Humphrey & Carla Meredith
Ad No: 3535985

Waterfront Cabin Near Nolin Dam
$410,000 Lake Home - For Sale
Waterfront: Yes
Year Built: 1996
3 Br 3.0 Ba
Sq Ft: 2519
Stories: 1 1/2
Acres: 1.350
Added: May 24, 2023
Bee Spring, Kentucky 42207
Updated: May 24, 2023
Edmonson County
Views: 589
Carol Humphrey & Carla Meredith
Ad No: 3842544

Beautiful Lake Home In Moutardier Bluffs SOLD
$425,000 Lake Home - SOLD!
Waterfront: No
Year Built: 2015
4 Br 2.0 Ba
Sq Ft: 1652
Stories: 1 1/2
Acres: 1.090
Added: Mar 08, 2023
Leitchfield, Kentucky 42754
Updated: May 08, 2023
Edmonson County
Views: 717
Carol Humphrey & Carla Meredith
Ad No: 3556124

Lake Home Near Wax With A Dock
$439,000 Lake Home - For Sale
Waterfront: No
Year Built: 2016
3 Br 2.5 Ba
Sq Ft: 2078
Stories: 1 and 1/2
Acres: 0.830
Added: May 26, 2023
Cub Run, Kentucky 42729
Updated: May 27, 2023
Hart County
Views: 767
Carol Humphrey & Carla Meredith
Ad No: 3851835

NEW PRICE!! HOME WITH DOCK IN CARROLLS COVE!!
$545,000 Lake Home - Under Contract
Waterfront: No
Year Built: 2022
4 Br 3.5 Ba
Sq Ft: 2655
Stories: 1 1/2
Acres: 1.556
Added: May 03, 2023
Leitchfield, Kentucky 42754
Updated: May 17, 2023
Grayson County
Views: 661
Carol Humphrey & Carla Meredith
Ad No: 3774623

New Construction in Wax!
$565,000 Lake Home - For Sale
Waterfront: Yes
Year Built: 2022
3 Br 2.0 Ba
Sq Ft: 1711
Stories: 1
Acres: 1.236
Added: Mar 02, 2023
Clarkson, Kentucky 42726
Updated: May 09, 2023
Grayson County
Views: 539
Carla Meredith
Ad No: 3142111

WILDERNESS RIDGE - New Construction
$565,000 Lake Home - For Sale
Waterfront: Yes
Year Built: 2022
3 Br 2.0 Ba
Sq Ft: 1707
Stories: 1
Acres: 1.026
Added: Mar 02, 2023
Clarkson, Kentucky 42726
Updated: May 09, 2023
Grayson County
Views: 709
Carla Meredith
Ad No: 3142110

Waterfront With Panoramic Views!! SOLD
$649,000 Lake Home - SOLD!
Waterfront: Yes
Year Built: 2019
4 Br 2.5 Ba
Sq Ft: 2723
Stories: 1 and 1/2
Acres: 1.147
Added: Jan 05, 2023
Clarkson, Kentucky 42726
Updated: Apr 21, 2023
Grayson County
Views: 2844
Carol Humphrey & Carla Meredith
Ad No: 3391793