For Sale by Owner Advertising Rates
Term: 6 months
# of
Pictures
Price
(one time fee
not monthly)
To Purchase
Single Ad
10
$69
Single Deluxe Ad
30
$89
3 Ad pkg
10
$129
3 Deluxe Ad pkg
30
$189

We offer FREE Yard Signs and Dock Banners with a metal stake. You only pay for shipping and handling.

Yard signs: $15 (1) or $25 (2), 18"x24" two-sided, heavy duty corrugated plastic sign, with metal stake
Dock Banners are $29 (1) and $49 (2), 30" x 40" one-sided, reinforced vinyl with metal grommets

This is an option available on the checkout/payment page after you have entered your property information and photos.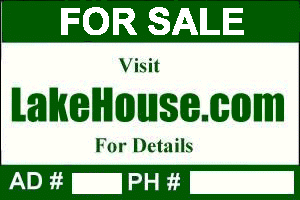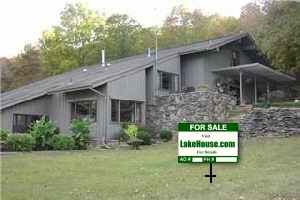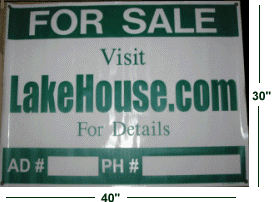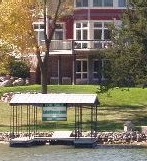 Direct Contact between Buyers and Sellers
Direct contact between Buyers and Sellers. Your listing will display a request information form, your name, telephone number, and website (if you have one). All inquiries are sent directly to you. All leads are saved on your account page.
Display up to 30 photos on each listing!
Uploading your photos is very easy. Upload all 30 at one time. Move them around with drag and drop. Add captions to give each photo more details.
Google, MapQuest, and Bing Maps
Location, Location, Location!
Your listing will include an interactive Google map with a property location marker. Plus MapQuest and Bing Maps.
Free Virtual Tour Link!
Virtual tours give your listings realistic panoramic views with a more life-like setting. Easily add a link to your online virtual tour!
More Traffic Directed to Your Website!
Get more exposure and generate traffic to your website! Add a personal or company website link to your listing. Click-thru statistics are provided on your account page.
Friendly Customer Service!
Our Account Managers will provide you with the friendly customer service that you would expect from a Texan. If you didn't know that about Texans, we are considered some of the friendliest folks in the US. Our staff is available to help you with any questions or assistance, M-F, 8 am - 5 pm, CST. Give us a call at 888-933-5253 and you will be pleasantly surprised when you don't get a recording or have to sit thru dozens of phone prompts to get you to the right "department".


Credit cards & personal checks accepted

CUSTOMER TESTIMONIALS
"Wow!!!! We have been amazed by your website! We purchased a lake house to be remodeled and resold, but then I found your website. I thought I would go ahead and list it as is, for more than we thought we would get. The response we received was endless! I was shocked by the the numerous (probably more than 100) emails and calls we have gotten by potential buyers. It is now SOLD! If we buy another investment lake house, it will be listed here for sure! Thanks so much!"
Shelley and Lane, OK
"I would like to say that we sold our lakehouse today, and the call came from the sign we bought from you. Thank you for your service and a wonderful site."
John Errera, Chain O' Lakes, Illinois
"I am so impressed with your website. I put our place on here and within days had an offer and was able to also buy another property in another state. Thank you for your service."
Gina Hogue, Lake Sam Rayburn, Texas
"WE CLOSED TODAY! I can't say enough about how much we love your web site! We listed only on your site when some friends sold thru you and we're delighted with the response we got from all over the country. We could have never expected that at such a bargin price."
Jennifer Kirby, Lake Cumberland, Kentucky
"We closed on our property, thanks to you. Less than three months from when we did the ad with you. Thank you so much. A great service."
Tawanda Waters, Lake Blackshear, Georgia
See more FSBO Testimonials