Re/Max Real Estate Ten has (61) lake real estate ads listed on LakeHouse.com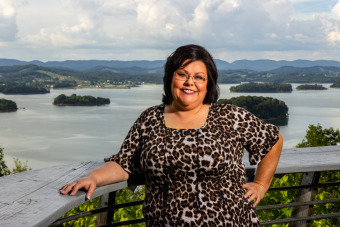 Amy Shrader
Re/Max Real Estate Ten
525 W Morris Blvd, Ste C
Morristown, Tennessee 37813
+1 423-748-8811 423-289-0030
http://www.TNRealEstateGal.com
My name is Amy Shrader. I am in my 9th year as a REALTOR®. Prior to that, I worked for 12 years in both the mortgage and title industry. I cover Cherokee Lake, Douglas Lake, and Norris Lake; as well as the Clinch River, French Broad River, Holston River, and Nolichucky River. I hold the SRS (Seller Representative Specialist), RSPS (Resort & Second Home Property Specialist) and GRI (Graduate of the REALTOR® Institute) designations, as well as having the RENE (Real Estate Negotiation Expert) certification.
Whether you are looking to purchase a lakefront home, a lake lot, a river front property, or a secluded cabin in the mountains, I can help!
If you are wantingto sell a water front property, I would appreciate the opportunity to speak with you. I understand that we're not just selling your home or lot, we're selling the water front lifestyle. I am a member of the Knoxville MLS, the Lakeway MLS, and the Tenn/VA MLS. I subscribe to Lakehouse.com, Lakehomesusa.com, Landwatch.com, and feature our listings on Zillow and Trulia.
As a lifelong resident of East Tennessee, I am familiar with the area and its amenities. I look forward to working with you!
Tennessee > Cherokee Lake

Building Lot with Lake Views
$15,000 Lake Lot - For Sale
Waterfront: No
Acres: 1.240
Added: Mar 31, 2022
Mooresburg, Tennessee 37811
Updated: Jan 11, 2023
Hawkins County
Views: 431
Amy Shrader
Ad No: 1787755

LIQUIDATION PRICE ON CHEROKEE LAKE VIEW LOT
$22,410 Lake Lot - For Sale
Waterfront: No
Acres: 0.580
Added: Jan 18, 2023
Rutledge, Tennessee 37861
Updated: Mar 13, 2023
Grainger County
Views: 223
Amy Shrader
Ad No: 1450180

Gorgeous Views Of Cherokee Lake
$22,500 Lake Lot - For Sale
Waterfront: No
Acres: 0.560
Added: Feb 13, 2023
Mooresburg, Tennessee 37811
Updated: Mar 22, 2023
Hawkins County
Views: 233
Amy Shrader
Ad No: 458721

Cherokee Lake View Building Lot For Sale
$25,000 Lake Lot - For Sale
Waterfront: No
Acres: 0.700
Added: Jan 03, 2023
Mooresburg, Tennessee 37811
Updated: Jan 11, 2023
Hawkins County
Views: 214
Amy Shrader
Ad No: 490474

Building Lot In Cherokee Lake Subdivision
$28,000 Lake Lot - For Sale
Waterfront: No
Acres: 0.860
Added: Apr 11, 2023
Mooresburg, Tennessee 37811
Updated: Apr 11, 2023
Hawkins County
Views: 68
Amy Shrader
Ad No: 514714

Building Lot in Walnut Bend on Cherokee Lake
$32,000 Lake Lot - For Sale
Waterfront: No
Acres: 0.620
Added: May 01, 2023
Whitesburg, Tennessee 37891
Updated: May 01, 2023
Hawkins County
Views: 28
Amy Shrader
Ad No: 3251666

Building Lot in Walnut Bend on Cherokee Lake
$32,000 Lake Lot - For Sale
Waterfront: No
Acres: 0.680
Added: May 01, 2023
Whitesburg, Tennessee 37891
Updated: May 01, 2023
Hawkins County
Views: 65
Amy Shrader
Ad No: 3251925

Cherokee Lake View Building Lot
$39,900 Lake Lot - For Sale
Waterfront: No
Acres: 0.580
Added: Nov 03, 2022
Mooresburg, Tennessee 37811
Updated: May 18, 2023
Hawkins County
Views: 202
Amy Shrader
Ad No: 1423134

Cherokee Lake View Building Lot
$52,500 Lake Lot - For Sale
Waterfront: No
Acres: 0.960
Added: Jan 13, 2023
Morristown, Tennessee 37814
Updated: Apr 21, 2023
Hamblen County
Views: 139
Amy Shrader
Ad No: 3410555

1.29 Acre Seasonal Cherokee Lakefront Lot
$65,000 Lake Lot - For Sale
Waterfront: Yes
Acres: 1.290
Added: Apr 21, 2023
Mooresburg, Tennessee 37811
Updated: Apr 21, 2023
Hawkins County
Views: 116
Amy Shrader
Ad No: 3727627

Building Lot in Bayside on Cherokee Lake
$69,500 Lake Lot - For Sale
Waterfront: Yes
Acres: 0.640
Added: Jan 26, 2023
Bean Station, Tennessee 37708
Updated: Jan 26, 2023
Grainger County
Views: 273
Amy Shrader
Ad No: 3442198

Cherokee Lake Front Lot
$89,900 Lake Lot - For Sale
Waterfront: Yes
Acres: 0.400
Added: Mar 21, 2023
Mooresburg, Tennessee 37811
Updated: Mar 21, 2023
Hawkins County
Views: 326
Amy Shrader
Ad No: 3596106

Cherokee Lakefront Lot For Sale
$89,900 Lake Lot - For Sale
Waterfront: Yes
Acres: 0.840
Added: Jan 03, 2023
Mooresburg, Tennessee 37811
Updated: Jan 11, 2023
Hawkins County
Views: 363
Amy Shrader
Ad No: 422346

Seasonal Lakefront Lot on Cherokee Lake
$89,900 Lake Lot - For Sale
Waterfront: Yes
Acres: 0.970
Added: Nov 07, 2022
Rutledge, Tennessee 37861
Updated: Jan 16, 2023
Grainger County
Views: 345
Amy Shrader
Ad No: 2765860

Cherokee Lake Front Building Lot
$99,900 Lake Lot - For Sale
Waterfront: Yes
Acres: 0.620
Added: Apr 11, 2023
Mooresburg, Tennessee 37811
Updated: Apr 11, 2023
Hawkins County
Views: 146
Amy Shrader
Ad No: 812060

Magnificent Cherokee Lake View Building Lot
$99,900 Lake Lot - For Sale
Waterfront: No
Acres: 0.820
Added: May 01, 2023
Morristown, Tennessee 37814
Updated: May 01, 2023
Hamblen County
Views: 47
Amy Shrader
Ad No: 3292211

Cherokee Lakefront Cabin with Views
$275,000 Lake Home - For Sale
Waterfront: Yes
Year Built: 1968
2 Br 1.0 Ba
Sq Ft: 988
Stories: 1.5
Acres: 1.400
Added: Apr 18, 2023
Bean Station, Tennessee 37708
Updated: May 02, 2023
Grainger County
Views: 460
Amy Shrader
Ad No: 2716554

One Level Home Overlooking Cherokee Lake SOLD
$275,000 Lake Home - SOLD!
Waterfront: No
Year Built: 2004
3 Br 2.0 Ba
Sq Ft: 1440
Stories: 1
Acres: 0.800
Added: Apr 06, 2023
Mooresburg, Tennessee 37811
Updated: May 08, 2023
Hawkins County
Views: 158
Amy Shrader
Ad No: 3645399

2.57 Acre Cherokee Lakefront Lot For Sale
$299,900 Lake Lot - Sale Pending
Waterfront: Yes
Acres: 2.570
Added: Aug 29, 2022
Mooresburg, Tennessee 37811
Updated: May 03, 2023
Hawkins County
Views: 584
Amy Shrader
Ad No: 3095015

Luxury Lakefront Paradise SOLD
$700,000 Lake Home - SOLD!
Waterfront: Yes
Year Built: 2022
5 Br 3.0 Ba
Sq Ft: 2575
Stories: 2
Acres: 0.459
Added: Jan 13, 2023
Bean Station, Tennessee 37708
Updated: May 16, 2023
Grainger County
Views: 654
Amy Shrader
Ad No: 3410553

17 1/2 Acres Cherokee Lakefront Unrestricted For Sale
$1,850,000 Lake Home - For Sale
Waterfront: Yes
Year Built: 1993
3 Br 2.5 Ba
Sq Ft: 1774
Stories: 1
Acres: 17.490
Added: Apr 11, 2023
Mooresburg, Tennessee 37811
Updated: Apr 11, 2023
Hawkins County
Views: 107
Amy Shrader
Ad No: 2958263

Tennessee > Douglas Lake

3 Lots Side By Side with Douglas Lake Views
$50,000 Lake Lot - For Sale
Waterfront: No
Acres: 1.120
Added: Nov 03, 2022
Newport, Tennessee 37821
Updated: Nov 03, 2022
Cocke County
Views: 390
Amy Shrader
Ad No: 2708842

Rustic Cabin on Douglas Lake $225,000 SOLD
$225,000 Lake Home - SOLD!
Waterfront: Yes
Year Built: 1997
1 Br 1.5 Ba
Sq Ft: 574
Stories: 1.5
Acres: 1.560
Added: Mar 17, 2023
Dandridge, Tennessee 37725
Updated: May 10, 2023
Jefferson County
Views: 330
Amy Shrader
Ad No: 3583444

Home on Douglas Lake
$450,000 Lake Home - For Sale
Waterfront: Yes
Year Built: 1981
2 Br 1.0 Ba
Sq Ft: 1000
Stories: 1
Acres: 1.000
Added: May 10, 2023
Baneberry, Tennessee 37890
Updated: May 10, 2023
Jefferson County
Views: 193
Amy Shrader
Ad No: 3796794

Tennessee > Norris Lake

1.33 Acre Building Lot in Rock Harbor
$14,350 Lake Lot - For Sale
Waterfront: No
Acres: 1.330
Added: Sep 27, 2022
New Tazewell, Tennessee 37825
Updated: May 05, 2023
Claiborne County
Views: 286
Amy Shrader
Ad No: 2617734

2+ Acre Building Lot with Norris Lake Access
$15,700 Lake Lot - For Sale
Waterfront: No
Acres: 2.360
Added: Sep 27, 2022
New Tazewell, Tennessee 37825
Updated: May 05, 2023
Claiborne County
Views: 368
Amy Shrader
Ad No: 2592789

1+ Acre Lot in Rock Harbor
$26,500 Lake Lot - For Sale
Waterfront: No
Acres: 1.180
Added: Dec 13, 2022
New Tazewell, Tennessee 37825
Updated: Dec 13, 2022
Claiborne County
Views: 162
Amy Shrader
Ad No: 3358597

Building Lot in Rock Harbor
$29,999 Lake Lot - For Sale
Waterfront: No
Acres: 0.940
Added: Dec 07, 2022
New Tazewell, Tennessee 37825
Updated: Dec 07, 2022
Claiborne County
Views: 113
Amy Shrader
Ad No: 3347837

1 Acre Building Lot in Rock Harbor
$30,999 Lake Lot - For Sale
Waterfront: No
Acres: 1.020
Added: Dec 12, 2022
New Tazewell, Tennessee 37825
Updated: Dec 12, 2022
Claiborne County
Views: 120
Amy Shrader
Ad No: 3356461

Norris Lakefront Lot For Sale
$159,900 Lake Lot - For Sale
Waterfront: Yes
Acres: 0.500
Added: Jul 12, 2022
Speedwell, Tennessee 37870
Updated: Mar 01, 2023
Campbell County
Views: 687
Amy Shrader
Ad No: 2937277

Tennessee > (private lake, pond, creek)

Nearly 34 Acres Unrestricted in Greene County
$300,000 Lake Acreage - Sale Pending
Waterfront: Yes
Acres: 33.840
Added: Jan 03, 2023
Mosheim, Tennessee 37818
Updated: Feb 13, 2023
Greene County
Views: 150
Amy Shrader
Ad No: 2887042

Renovated Farmhouse on 19.88 Acres with Huge Pond
$499,900 Lake Home - For Sale
Waterfront: Yes
Year Built: 1999
3 Br 2.0 Ba
Sq Ft: 1718
Stories: 2
Acres: 19.880
Added: Feb 20, 2023
Parrotsville, Tennessee 37843
Updated: May 01, 2023
Cocke County
Views: 776
Amy Shrader
Ad No: 3509191

Tennessee > Holston River - Grainger County

Like new Manufactured Home on 1/2 Acre
$215,000 Lake Home - For Sale
Waterfront: No
Year Built: 2020
3 Br 2.0 Ba
Sq Ft: 1792
Stories: 1
Acres: 0.530
Added: Apr 14, 2023
Rutledge, Tennessee 37861
Updated: Jun 01, 2023
Grainger County
Views: 57
Amy Shrader
Ad No: 3701834

Tennessee > French Broad River - Cocke County

2+ Acre Building Lot in River Crest
$23,400 Lake Lot - For Sale
Waterfront: No
Acres: 2.070
Added: Mar 29, 2022
Del Rio, Tennessee 37727
Updated: May 05, 2023
Cocke County
Views: 439
Amy Shrader
Ad No: 2545631

1.49 Acre Building Lot in River Crest SOLD
$25,000 Lake Lot - SOLD!
Waterfront: No
Acres: 1.490
Added: Jan 20, 2023
Del Rio, Tennessee 37727
Updated: Mar 13, 2023
Cocke County
Views: 95
Amy Shrader
Ad No: 3427312

Unrestricted 5 Acres with 2 Homes & Across From River
$311,000 Lake Home - For Sale
Waterfront: No
Year Built: 1930
3 Br 2.0 Ba
Sq Ft: 1756
Stories: 2
Acres: 5.030
Added: May 15, 2023
Del Rio, Tennessee 37727
Updated: May 15, 2023
Cocke County
Views: 111
Amy Shrader
Ad No: 3810700