Cherokee Lake Realty has (62) lake real estate ads listed on LakeHouse.com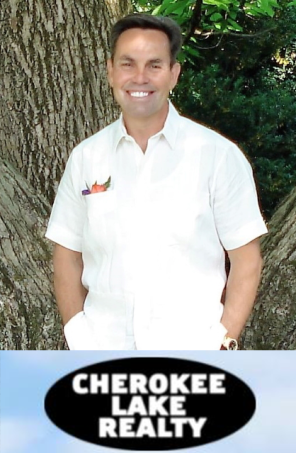 Felix Valdes
Cherokee Lake Realty
132 E. Old Andrew Johnson Hwy
Jefferson City, TN 37760
+1 865-471-8222
https://www.cherokeelakerealty.com/
Felix Valdes
Cherokee Lake Realty

Visit www.cherokeelakerealty.com for reviews & testimonials of clients that conducted business with Cherokee Lake Realty.

As a Buyer who is looking to purchase property in the Cherokee Lake area (an area encompassing four counties – Grainger, Hamblen, Hawkins, and Jefferson), why not use a Real Estate Firm that is plugged in, networked, and will know how to find your dream property in an area that we specialize in. Cherokee Lake Realty has access to many residential and land listings, auctions, and foreclosures throughout the area that are not found on online sites.

Our owner is not originally from this area, he moved here from another state over twenty-five years ago and knows what it is like to go through the relocation process. He lives in the Cherokee Lake area. He experienced what someone new to the area will experience and is ready to share his knowledge and guidance as you go through this process. Relocating is never easy for a family, and you can feel a sense of comfort in knowing that someone that went through the same situation will be there helping and answering all of your questions.

If you are currently out of state, contact us on a property that you are interested in and we will pull all available research and forward it to you: MLS info that is not available to the public, property history, surveys, lot dimensions, tax records, any and all information that will help you decide whether this property is a contender or not.

If you are visiting the area now, contact us for areas that you would like information on. We will provide suggestions, recommendations, and directions on locations that may fit your needs. Because of scheduling constraints, we may not be able to accompany you, but as you search the information provided, we will only be a phone call away to answer your questions. There is no better way to identify whether a property is for you, or not, than to do a drive-by. Photos don't always provide the true nature of how the property sits in relationship to neighboring homes. Areas that you may consider unsightly are best identified by driving by the home. If you need to see the inside of a home, please keep in mind, a 24-hour advance notice to gain access is the norm. We will then schedule the appointment for you, and accompany you on your viewing.

A member of the Grainger County Chamber of Commerce, Jefferson County Chamber of Commerce, Morristown Area Chamber of Commerce, Cherokee Lake Users Association, Glenmore Mansion, Mossy Creek Foundation, as well as the Lakeway Area Association of Realtors, Tennessee Realtors, and National Association of Realtors, Cherokee Lake Realty is your Real Estate Firm with a true hometown presence.

If you are looking for property in Douglas, Norris, or other Tennessee lakes, don't call us. Find yourself an expert in those lake areas. But, if you want someone that lives on Cherokee Lake, that swims in Cherokee Lake, that boats on Cherokee Lake, call Cherokee Lake Realty. As the saying goes, you don't get really good at doing something by doing one thousand different things once. You get really good at something by doing the same thing one thousand times. Our name says it all – Cherokee Lake Realty. So, as you reach out for assistance in finding a property in the Cherokee Lake area, ask yourself this, do you want a firm that claims they are experts in all lake areas, or one that stands by and represents only one?

Visit our website at www.cherokeelakerealty.com and read for yourself what our clients are saying. We do what we say we will do.



Tennessee > Cherokee Lake

Residents only boat launching ramp.
$22,900 Lake Lot - For Sale
Waterfront: No
Acres: 0.460
Added: Jun 02, 2022
Rutledge, Tennessee 64134
Updated: Jun 03, 2022
Grainger County
Views: 137
Felix Valdes
Ad No: 2786379

Maintenance-Free Lake Living!
$27,900 Lake Lot - For Sale
Waterfront: Yes
Acres: 1.050
Added: Sep 14, 2021
Rutledge, Tennessee 37861
Updated: Jan 21, 2022
Grainger County
Views: 1205
Felix Valdes
Ad No: 1933822

Live the Cherokee Lake Life!
$28,900 Lake Lot - For Sale
Waterfront: No
Acres: 0.610
Added: Jul 19, 2021
Rutledge, Tennessee 37861
Updated: Apr 27, 2022
Grainger County
Views: 514
Felix Valdes
Ad No: 1174132

Views of Cherokee Lake!
$44,900 Lake Lot - For Sale
Waterfront: No
Acres: 0.600
Added: Feb 28, 2022
Rutledge, Tennessee 37861
Updated: May 13, 2022
Grainger County
Views: 237
Felix Valdes
Ad No: 2435924

Year-round views of Cherokee Lake!
$54,900 Lake Lot - For Sale
Waterfront: No
Acres: 0.550
Added: Nov 29, 2021
Bean Station, Tennessee 37708
Updated: Jan 22, 2022
Grainger County
Views: 402
Felix Valdes
Ad No: 1677553

Live the Cherokee Lake Life!
$55,900 Lake Lot - For Sale
Waterfront: No
Acres: 1.900
Added: Mar 15, 2021
Rutledge, Tennessee 37861
Updated: May 20, 2022
Grainger County
Views: 311
Felix Valdes
Ad No: 1409303

2.47-acre Cherokee Lake front lot!
$76,900 Lake Acreage - For Sale
Waterfront: Yes
Acres: 2.470
Added: Feb 25, 2022
Rutledge, Tennessee 37861
Updated: Feb 27, 2022
Grainger County
Views: 884
Felix Valdes
Ad No: 2429967

Unobstructed views of Cherokee Lake.
$139,900 Lake Lot - For Sale
Waterfront: No
Acres: 1.100
Added: Feb 28, 2022
Rutledge, Tennessee 37861
Updated: Feb 28, 2022
Grainger County
Views: 382
Felix Valdes
Ad No: 2431498

120 feet of a Cherokee Lakefront home!
$239,900 Lake Home - For Sale
Waterfront: Yes
Year Built: 1995
3 Br 2.0 Ba
Sq Ft: 1680
Stories: 1.0
Acres: 0.180
Added: Jun 15, 2022
Rutledge, Tennessee 37861
Updated: Jun 16, 2022
Grainger County
Views: 1219
Felix Valdes
Ad No: 2836380

172' of Cherokee Lakefront property!
$849,900 Lake Home - For Sale
Waterfront: Yes
Year Built: 2016
3 Br 3.0 Ba
Sq Ft: 2796
Stories: 2.0
Acres: 1.020
Added: May 06, 2022
Rutledge, Tennessee 37861
Updated: May 16, 2022
Grainger County
Views: 626
Felix Valdes
Ad No: 2669986

4,200 square feet of new construction at Cherokee Lake!
$849,900 Lake Home - For Sale
Waterfront: Yes
Year Built: 2022
3 Br 3.0 Ba
Sq Ft: 4200
Stories:
Acres: 0.670
Added: May 10, 2022
Bean Station, Tennessee 37708
Updated: May 11, 2022
Grainger County
Views: 316
Felix Valdes
Ad No: 2694480