RED DIRT REALTY GROUP has (9) lake real estate ads listed on LakeHouse.com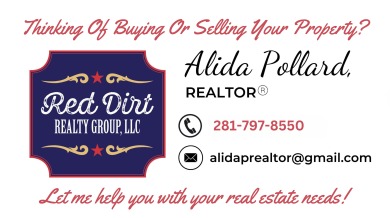 Alida Pollard
RED DIRT REALTY GROUP
46334
Plantersville, Texas 77363
+1 281-797-8550

Alida Pollard is an experienced and knowledgeable REALTOR® with Red Dirt Realty Group, LLC who specializes in lakefront properties in the Lake Limestone area. As a full-time resident and someone who has been selling real estate for over 16 years, Alida has a deep understanding of the local real estate market and the unique characteristics of Lake Limestone and the area can be of great value for anyone looking to buy or sell a property in this region.
Whether you are interested in boating, fishing, swimming, water sports, or just relaxing by the lake, Lake Limestone has something to offer everyone. If you are looking to buy or sell a property in this area, Alida's expertise in the area can help clients find the ideal property that suits their lifestyle and preferences. Her proven track record of providing excellent service to her clients reflects her commitment and professionalism.
If you are considering buying or selling a property in the Lake Limestone area, Alida Pollard is a great choice for your listing or buying agent. You can rely on her knowledge and experience to make the process smoother and successful.



Texas > Lake Limestone

REDUCED A Park-Like Oasis Retreat on Lake Limestone
$349,900 Lake Lot - For Sale
Waterfront: Yes
Year Built:
1 Br 2.0 Ba
Sq Ft: 850
Stories: 1
Acres: 1.300
Added: May 24, 2023
Groesbeck, Texas 76687
Updated: Sep 09, 2023
Limestone County
Views: 858
Alida Pollard
Ad No: 3841043

NEW PRICE - Move In Ready Home... on Lake Limestone SOLD
$549,900 Lake Home - SOLD!
Waterfront: Yes
Year Built: 2006
4 Br 3.0 Ba
Sq Ft: 1201
Stories: 1
Acres: 0.670
Added: Apr 13, 2023
Thornton, Texas 76687
Updated: Jul 16, 2023
Limestone County
Views: 1018
Alida Pollard
Ad No: 3624841

Texas > Camp Creek Lake

Lot 445 Camp Creek
$350,000 Lake Lot - For Sale
Waterfront: Yes
Acres: 0.574
Added: Aug 09, 2023
Franklin, Texas 77856-5763
Updated: Aug 14, 2023
Robertson County
Views: 79
Alida Pollard
Ad No: 4085531